We are a fairly new tag that has players of all levels, from 20 to 46, and looking to grow. We're a friendly and active bunch, always looking to help each other in various ways, and the sector we call home. We're constantly recruiting, even when this post is 6 months old LOL, welcoming players of all levels – not just high levels. We enjoy seeing players progress.
Our Home
Sector 123 is where we live, it is as nice a place you will find in WC. All tags there get on, help each other and defend each other – new arrivals are always offered a warm welcome by all. The sector is free of politics and idiots…well, most of the time 😉
How to Join
Simply click on the link below and fill in the webform.
We'll contact you as soon as possible.
War Commander monthly news:
Operation: Chaos Apocalypse
"Operation: Chaos Apocalypse | Main track"
coming soon!
"Operation: Chaos Apocalypse | Faction track"
coming soon!
WAR COMMANDER
MARCH EVENT STARTS IN:
Attention Commanders,
Sarkis and the Shadow Alliance have been defeated, Commander.
But, even as the Sector recovers and the wounds begin to heal, those who survived can't help but wonder... Sarkis was so close to
archieving his goals, what if we hadn't been able to stop him?
Good luck Commanders
MISSION DETAILS
In Operation: Chaos Apocalypse, Commanders will be faced with 3 gameplay tracks: the Main Track, a Faction Track, and the
return of the Eradication Track.
Operation: Shattered Alliance runs a Main Track, PvP attack Track and PvP Defence Track.
The Event begins on Thursday, March 5th at 10 am PDT and ends on Wednesday, March 11th at 10 am PDT.
MAIN TRACK
Deployable Units: All Units
Enemy: Shadow Faction
8 Attack Missions + 3 Defence Missions
4 Survivor Faction Missions
| | | | |
| --- | --- | --- | --- |
| MISSION | TYPE | XP | PRIZE |
| 1 | Attack | 1,000 | Gen 3 unit Roll |
| 2 | Attack | 11,000 | FM - 1 Unlock+Bronze Cache |
| 3 | Attack | 18,000 | 5 Million Thorium + AA Tech |
| 4 | Attack | 20,000 | Gen 3 Unit Roll x2 |
| 5 | Attack | 35,000 | 2 FM - 2 Unlock+Silver Cache |
| 6 | Attack | 40,000 | 10 Million Thorium + AA Training Tokens x2 |
| 7 | Attack | 75,000 | Silver Cache |
| 8 | Attack | 90,000 | FM - 3 Unlock+Gold Cache |
| 9 | Base Defense | 100,000 | 15 Million Thorium + AA Unit |
| 10 | Attack | 140,000 | Gold Cache |
| 11 | Attack | 200,000 | 2 FM - 4 Unlock+Silver Cache |
|   |   |   |   |
|   |   |   |   |
|   |   |   |   |
|   |   |   |   |
|   |   |   |   |
|   |   |   |   |
FACTION TRACK
Deployable Units: Survivors
Enemy: Shadow Faction
4 Attack Missions
| | | | |
| --- | --- | --- | --- |
| MISSION | TYPE | XP | PRIZE |
| 1 | Attack | 25,000 | Gorgon 1x |
| 2 | Attack | 50,000 | Training Token 3x |
| 3 | Attack | 100,000 | Gorgon 2x + Restart Token + Merc Contract |
| 4 | Attack | 200,000 | Gorgon 3x + Trophy Unlocked for Purchase + Merc Contract |
|   |   |   |   |
|   |   |   |  Don't miss out on the contracts! 2 per event and earn 8 in total |
|   |   |   |  in 4 events to enlist Stormchaser!   |
|   |   |   |   |
|   |   |   |  If you can't finish contracts in 1 event you'll miss out on |
|   |   |   |  Stormchaser! |
|   |   |   |   |
NEW CONTENT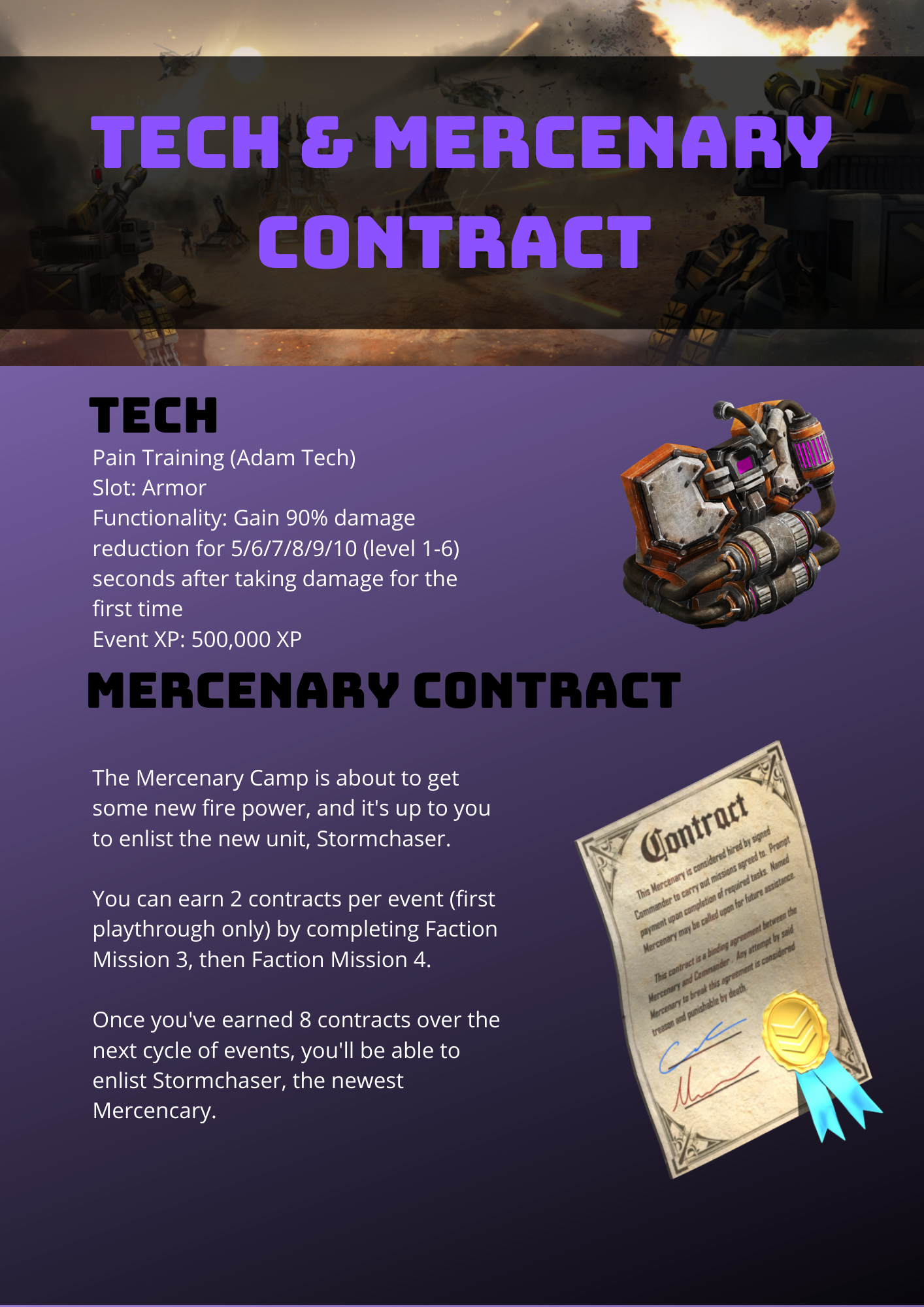 Sector Goals:
DELIVERANCE TROPHY

EVENT STORE
Item
Price
Notes
Event Trophy
400,000
 
Gorgon
500,000
New Corpus Mobile Mortar
Upgrade Logistic Devout: 1 Day
Upgrade Logistic Controller: 1 Day
400,000
500,000
Upgrade token Devout (saves 1 day)
Upgrade token Controller (saves 1 day
Pain Training
500,000
Adam Tech
Adam Part
200,000
Regular Adam Part
Elite Adam Part
125,000
Elite Adam Part
Elite Adam Part x4
375,000
Elite Adam Parts x4
Legendary BFG Part
AA Attachment
Rapid Rotors
Perfect Plating
Massive Missile
Legendary Laser Tank
LLT Component Bundle
Lights On
Gas Mask
Reposition
Artemis
Artemis Training Token
Buzzsaw
Buzzsaw Training Token
Seraph
Seraph Training Token
Last Resort

100,000
150,000
25,000
25,000
25,000
150,000
125,000
200,000
100,000
100,000
376,000
350,000
376,000
350,000
376,000
350,000
400,000

Legendary Part
AA Attachment

Legendary Part
Legendary Laser Tank Component

Gen 3: Corpus AA
Coprus Training Token
Gen 3: Survivor AA
Survivor Training Token
Gen 3: Sentinels AA
Sentinels Training Token
Herald Tech

AA Weapon Kit
400,000
Herald Tech
Mega Bombs
400,000 
Herald Tech
Big Bore Engine
Corrosive Rounds
Sloped Armor
Preservers
Augmented Armor
M4GX Grenade Launcher
High Caliber Ammo
Drum Magazine
Optimized Clip
400,000
400,000
400,000
15,000
15,000
150,000
150,000
150,000
150,000
Juggernaut Tech
Juggernaut Tech
Juggernaut Tech
Old faction Tech
Old faction Tech
Old faction Tech
Old faction Tech
Old faction Tech
Old faction Tech
Hornet
650,000
Drone: Unlimited
Yellowjacket
750,000
Drone: Unlimited
GK Rounds
300,000
Tech (Unlimited): Hornet
Universal Rounds
300,000
Tech (Unlimited): Hornet
Vector Armor
300,000
Tech (Unlimited): Hornet
Carapace Armor
300,000
Tech (Unlimited): Hornet
GK Payloads
300,000
Tech (Unlimited): Hornet
Universal Payloads
300,000
Tech (Unlimited): Hornet
Directional Armor
300,000
Tech (Unlimited): Hornet
Excavator
Lancer
Gunship
321,000
188,000
250,000
Unit: Survivor
Unit: Survivor
Unit: Survivor
Breacher
56,000
Gen 2 Unit: Survivor
Technical
125,000
Gen 2 Unit: Survivor
Manticore
188,000
Gen 3 Unit: Corpus
 
 
 
 
 
 
Drakon
180,000
Gen II Unit: Corpus
Chaplain
150,000
Gen II Unit: Sentinels
Bishop
140,000
Gen III Unit: Sentinels
 
 
 
Improved Engine Armored Engine
62,500 62,500
Gunship Survivor tech Gunship Survivor tech
TK Rounds Impact Rounds Deflection Shield
47,000 47,000 14,000
Bronze Survivor Tech: Sharpshooter Bronze Survivor Tech: Sharpshooter Bronze Survivor Tech: Breacher
Steady Shield
14,000
Bronze Survivor Tech: Breacher
Artic Tires
3,000
Bronze Survivor Tech: Technical
Grip Tires
31,000
Bronze Survivor Tech: Technical
 
 
 
Hotshot Bullets
70,000
Silver Survivor Tech: Sniper
Evasive Maneuvers Weapons Training
200,000 200,000
Gold Corpus Tech: Apollo Gold Corpus Tech: Apollo
Resistant Glass
45,000
Bronze Corpus Tech: Sphinx
Heavy Glass
45,000
Bronze Corpus Tech: Sphinx
Siege Armor
56,000
Bronze Corpus Tech: Drakon
Tactical Armor
56,000
Bronze Corpus Tech: Drakon
Improved Threads
56,000
Bronze Corpus Tech: Cyclops
Thick Tires
56,000
 
 
 
 
Sustain Armor
56,000
Bronze Sentinel Tech: Envoy
Heavy Armor
56,000
Bronze Sentinel Tech: Envoy
 
 
 
 
 
 
Solid Coil
70,000
Bronze Sentinel Tech: Caretaker
Zone Coil
70,000
Bronze Sentinel Tech: Caretaker
Heavy Fuel
37,500
Bronze Sentinel Tech: Chaplain
Lightweight Fuel
37,500
Bronze Sentinel Tech: Chaplain
Weapons Lab
300,000
Building
Cores x 20
50,000
Bastion Resources
Chemicals x 250
50,000
Bastion Resources
Silicon x 250
50,000
Bastion Resources
Cores x 1
3,000
Bastion Resources
Chemicals x 4
1,000
Bastion Resources
Silicon x 4
1,000
Bastion Resources
Sector Goal Points
500,000